News
December 2021
Websites: Small corrections and additions made to ocasopress.com
Writing: The 'Selections from Derzhavin' translations have been completed and published by Ocaso Press. The four volume 'Style and Substance: 93 Poems from the Chinese' as been published: translations, guide and two volumes of notes, all freely available from ocasopress.com.
Proof Reading : Various long-term assignments.
Testimonials
There are odd reviews scattered about the Internet, and some 30,000 copies of the ebooks are downloaded from the site each year.
Selected Small Presses
Translations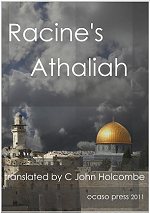 A dual language edition, with the French and English translation on facing pages. The original alexandrines are faithfully rendered in rhyming couplets, and the ebook includes an introduction, notes on verse matters, a glossary and references.
Athaliah was written for private performance at court, and has something of the gloom and piety that marked the later years of the Sun King's reign. With its extended choruses (though unperformed in Racine's lifetime, and a troubled history for the play as a whole thereafter), Athaliah is indeed close to opera, but of a peculiarly religious kind.
Athaliah does not depend on our empathy with the characters, but on the sheer power of its writing, that close interlocking of stagecraft with superlative technique. The play succeeds or fails as the verse convinces us that something is irrefutably the case. The verse is therefore self-enclosing, and made more so by the end-stopped nature of the alexandrine. To make something more virile and faster-moving, I have let the content flow across the lines more than Racine allows, but kept its hard surface by writing in exact, iambic rhymed couplets that aim to give the full sense immediately.
Novels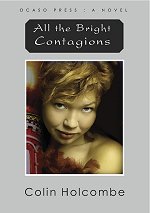 Beautiful, mischievous and charming: Patrick Staunton is sufficient of a portrait artist to recognize trouble in the beautiful wife of his wealthy employer, and hardly needs the warning of Mafia connections from an old Polish friend. 'Of course you will fall in love with me, I guarantee it', Natalie Stumpfl tells him at a Frankfurt nightclub, and remorselessly Staunton is drawn into her scandalous past even as he begins to understand the roots of his own tangled relationships with women. He closes his eyes to the murders of his father and girlfriend, and to the money-laundering activities of his employer, blindly following Natalie through Spain and the art-world of England and Russia. Will she leave the husband she despises, or does she despise all men, allowing only women to be fully intimate with her thoughts?
Poetry
Poems of place seen through other eyes. Fifty locales of the United Kingdom recreated by their particular geographies, associations and history — the small and nondescript, the grand country houses, new towns and old, unpeopled moorlands and industrial belts, the scenes of past splendor and the small, homely scenes that retain our childhood affections.
All are quiet, meditative pieces, but range from the topographical through the surreal to the purely imaginary as the poetry moves from description to the significance that places hold in our lives.
Though traditional in form, all use the techniques of Modernism to explore the larger settings that the words evoke.
Guides
An updated and expanded, free 568-page book on verse as an art form — a practical guide to writing verse in traditional, Modernist and Postmodernist styles. Illustrated with copious examples ranging from Chaucer to contemporary American poets, plus hundreds of Internet links, this guide bridges the gap between self expression and the production of professional work worthy of the detailed literary study.
The theory sections explain not only what poets are and have been trying to do, but why verse takes its often stylized forms. The opening chapters cover the theory and aesthetics of verse, genre considerations, sentence structure and rhetoric, stanza forms and word choice, sound patterning, metaphor and imagery, metre and rhyme. Then follow chapters on the sonnet, lyrics, rhyming couplets, ode, pastoral elegy, light verse, blank, narrative and dramatic verse, modenist and postmodernist styles, and performance poetry. Includes a chapter providing a step by step guide to verse construction, a chapter on translating Italian, French, German and Sanskrit poetry into English forms, and a final 50 page bibliography.
Notes
All work is now issued as free pdf ebooks. Click on the illustrations to visit the site.